"Our Clients GLM has several clients in over 18 countries. These include some of the largest Engineering, Procurement and Construction (EPC) Companies in the World like Petrofac, KBR, JGC, CCC etc. GLM focusses on working with the best employers in each country and this is reflected in long and repeatable relationships with each of our clients – for example in Oman this includes the largest and top most employers such as GALFAR, BEC, STS, Al-Hassan etc. In KSA this includes Al Suwaidi, CCC, Mohammed Al Mojil, SRACO etc"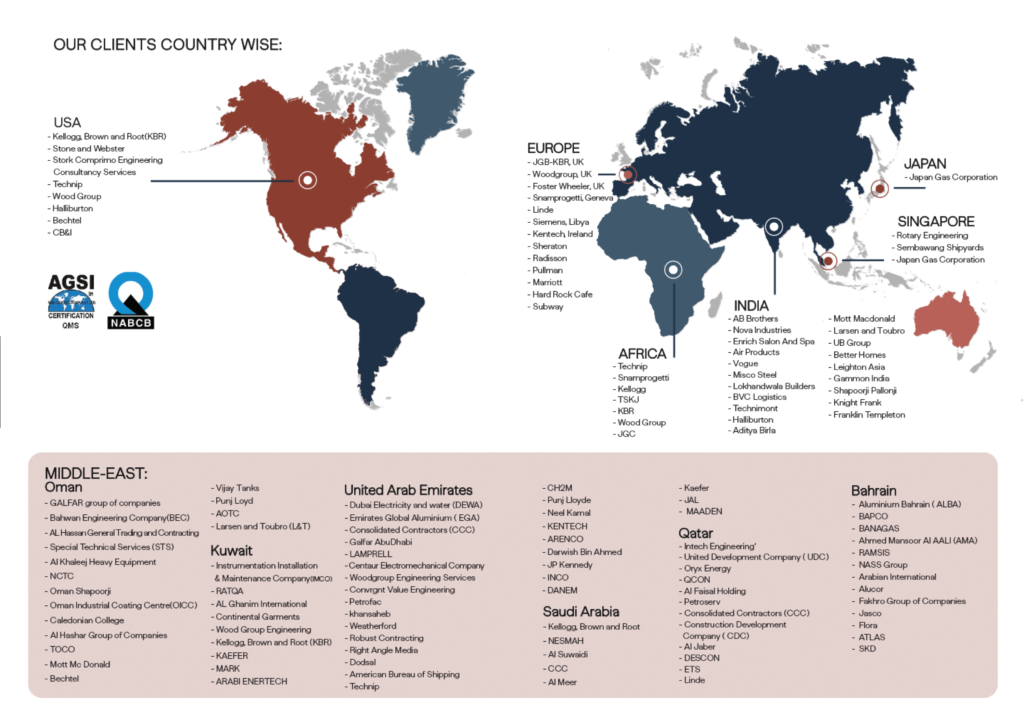 Over our last decade OOSC group of companies have utilized GLM expertise in the lead hutting as well as bulk recruitment process. Their prompt response to our manpower, credentials and understanding of oil and gas bancos environment and local culture helps was immensely fulfilling our organizational goals. All in all Ambe has been a reliable partner in providing adequate human resources to develop our business .
MR. ARUN DESAI
GM Oman Industrial Coating Centre
(OOSC)
Working with GLM has indeed been a pleasure. GLM has given us the best results in catering to our manpower requirements whenever we have needed them. They have always stood by us during our good and bad times. Thank You Ambe!
MR. CHURCHI E HADDAD
Manager, Administration, IMCO. Kuwait
I believe with our long relationship (almost 20 years now), and the confidence 'ive had in Ambe, I wouldn't keep coming back to you if I thougth Ambe coudnt handle our needs ofcourse this covers Kellogs, KBR, Stone & Webster and how CB&I. GLM has given us the best results in cateringto our international manpower requirements whenever we have needed them. GLM has been consistent partner during the good and slow periods over the past 20 years.
MR. RICK FEGER
Manager of Field Staffing - CB&I, Dubai
HR Manager at KBR
HR Manager at Stone & Webster
HR Manager at MW Kellogg
GLM has been working with Ambe former twenty years. During this period we have witnessed the highest level of professionalism, understanding of our needs and competency. Such a long period of relationship is a testimony that reflects our trust and respect in dealing with such reliable consultants.
MR. MAHMOOD DAYLAMI
Dy.CEO, Aluminium Bahrain
(ALBA)
International Manpower Recruitment Agency Solutions
GLM is a International Manpower Recruitment Agency that provides innovative & international manpower recruitment solutions from india. We are providing international manpower services and Career Development Services across India, Dhaka-Bangladesh, Sri Lanka, Philippines, Vietnam, Pakistan. We are Emerging, Vibrant and Professionally managed manpower recruitment agency, which aims to provide our Clients with value added international manpower services based on Honesty, Integrity, Desired results and a Passion of Excellence. At Ambe International, there is a simple philosophy at work; clients are not our audience, but our success partners, and in their growth, lies our growth. So wherever they are, we are always in search of opportunities that will make them succeed in their respective professions.
Manpower Recruitment Agency in India – What you should expect from us?
We, at GLM, believe in leaving no stone unturned in our attempt to help our growing international clientele. To stay competitive in today's global market, an effort must be made to address work/life issues. Our teams bring each client a combination of deep industry knowledge and expert perspectives from other industries on the challenge at stake. Being a leading manpower recruitment agency we are providing all sort of recruitment, staffing, HR outsourcing and recruiters for hire to worldwide clients. Our highly qualified recruitment managers have years of international manpower recruitment experience; objectively and subjectively testing the candidates for their skills and knowledge.
International Manpower Solutions – Types of consulting services & solutions we provide
We provide all sorts of International Manpower services to our clients. Our manpower consultancy solution are specially designed as per the client´s requirements.. Our renowned HR experts and various tools enabled us to provide the best possible HR services in India. We are providers of recruitment process outsourcing in the employment services industry, enabling our clients to outsource the entire recruitment process for permanent and contingent staff to us, so they can focus on other areas of human resources.
We provide Manpower Recruitment Services from the following countries:
A Host of Clients have benefited from this. Have You? GLM is Asia's leading Government recognized International Manpower consulting agency. We have our own well-equipped Hi – Tech Premises in Mumbai, Delhi, Chennai, Kochi, Vadodara, Kathmandu-Nepal, Dhaka-Bangladesh and with partner offices in all the major cities of Asia.
Our International Recruitment Network:
Mumbai, Delhi, Chennai, Kochi, Vadodara, Kathmandu-Nepal, Dhaka-Bangladesh, Sri Lanka, Philippines, Vietnam, Pakistan.